porcelain veneers
When it comes to creating beautiful smiles, porcelain veneers, as seen on 10 Years Younger and Extereme Makeover, offer the most effective cosmetic dentistry solution.  Dr Rob Jukes at Gentle Dental has undertaken extensive training, both in the UK and the US, to ensure he can give you a beautiful, bright white smile in a relatively short space of time.
Imagine porcelain veneers as being similar to nail extensions.   They are wafer thin, custom-made shells of porcelain designed to cover the front surface of your teeth.
procedure
The first step is to take impressions (moulds) of your teeth to make a "diagnostic wax-up" – this allows us to make a model of your teeth and to produce a "trial smile", essential for the proper planning of your smile.  The wax up allows you to see what your smile will look like with regard to the shape and position of the teeth.
Once you have approved the wax model we schedule a preparation appointment.  Dr Jukes carefully shapes your teeth; he takes more impressions and fits beautiful temporaries to exactly duplicate the "trial smile".  Fine adjustments are made to the temporaries 3-7 days after they have been fitted. This give time for you to ensure they meet your desires with regard to shape, position and colour.  On the final visit, three weeks later, your veneers will be fitted and you walk out with the smile of your dreams.
candidates for porcelain veneers
Porcelain veneers can disguise chips, cracks, stains, crookedness, and gaps.  If your teeth are essentially healthy, but you would like to improve the appearance of your smile, porcelain veneers may be the ideal solution for you.
To find out more please contact Dr Rob Jukes at Gentle Dental in Salisbury
Before and after: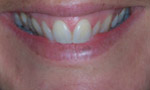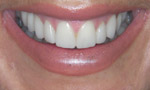 the problem
P is a well known business man in town and was aware that he was always coming across to people as 'Mr Grumpy'.  He realised this was because he never smiled and he didn't smile because he had discoloured uneven front teeth. 
our solution
We found that P had worn his teeth significantly and that his smile was uneven.  After diagnosing the cause of his bite problem, by using a small orthodontic type plate called a deprogrammer,  we were able to increase the length of his upper teeth all round so that he ended up with an even bite and showing more tooth when he smiled. 
Before any of this we removed all the decay from his teeth and strengthened any fillings that might have risked the future of the work we were to carry out.  We also ensured that his gums were in good health with regular visits to the hygienist and both of these provided us with an excellent foundation on which to build.
The deprogrammer causes the muscles that bite your teeth together to relax which then allows your jaw joint to settle into the correct place.  Oftentimes a jaw can be held in the wrong place by the muscles having a "memory" and the deprogrammer removes this memory.  Once we know where the jaw joint wants to be we make a mould of that position.  We send this, along with a model of the teeth, to the laboratory where they mount the models on an artificial jaw.  They are then able to make a mock up of how the teeth will look in the future. 
We then use this to prepare the teeth to take the new veneers and crowns and once this is done we take another impression of the teeth.  While we are waiting to fit the new teeth we provide a temporary cover for the teeth.  This is an exact copy of the mock up and is very close to how the final teeth will look.  It is also totally adjustable so that if there are any changes that need to be made to the teeth they can be done at this stage.  An impression of this is then taken and this is sent to the laboratory as well.  With all of this and considerably more information that we send the laboratory can make the new teeth. 
At the fitting appointment we remove the temporaries and fit the new teeth. With all of the information that we sent to the lab there is usually very little adjustment that needs to be done.  
Needless to say P is now quite happy to smile and is rapidly loosing his 'Mr Grumpy' tag! 
before: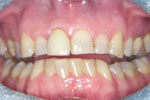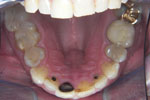 after: