dentures
Dentures are a popular option to replace teeth when all or most teeth are missing. The key to making dentures comfortable and secure is to achieve the perfect fit.  Dr. Rob Jukes at Gentle Dental in Salisbury can help ensure that you get this comfort and security.
Dentures can be full replacing, a complete arch of teeth or partial, replacing several missing teeth.  Different materials can also be used – acrylic or chrome cobalt. A denture can also be held in place by several dental implants, giving you the confidence to eat without worrying about them becoming loose.
procedure
Following assessment and discussion as to the best solution for you, Dr Jukes will take and impression of your mouth.  This is sent to the laboratory who make customised trays to exactly fit your mouth.
We take further much more specific impressions using these trays and the laboratory then make a 'wax bite'.  This is essentially a denture made out of wax.  We make adjustments to this wax denture to ensure we get the correct length for your teeth.
The next stage is to fit a denture with teeth set in wax so you can see if you like the shape colour and position of the teeth in the arch.  Any necessary adjustments are made and the final denture can be fitted at the next visit.
Please note this is an outline of an ideal scenario.  The precise number of appointments varies.  Metal dentures have an extra stage when the metal work is tried in for fit and any necessary adjustments made.  Also extra visit may be necessary if we have to make several adjustments and you would like to see the result again before you give a final decision.
candidates
Ideal candidates are anyone who has one or more missing teeth.  If a space is left unfilled after a tooth is taken out the other teeth can tend to drift to fill the gap.  The opposite tooth no longer has anything to bite against and can therefore over erupt.  In general, both for the health and appearance of your remaining teeth it is advisable to replace the missing tooth.
To find out more please contact Dr Rob Jukes at Gentle Dental in Salisbury.
before and after: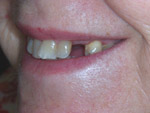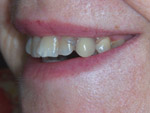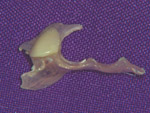 case study - telescopic dentures
the problem
C was having problems with her dentures.  She had tried metal ones and plastic ones with and without clasps but nothing seemed to work for her. As a result, she would avoid eating in anybody's company because it was embarrassing when they came out.  C had looked at the alternative of implants but these were just too expensive. 
our solution
As C had three upper teeth left and they were healthy we suggested a telescopic denture.  This is where a very thin gold crown is made to a prepared tooth and then another crown is made by plating the first crown.  This gives two crowns per tooth which are very close fitting.  One crown is cemented to the tooth and the second is very precisely welded to a denture.  This gives a denture that is very minimal and also incredibly well fitting.  They also look fantastic because all of the cold is covered with tooth coloured porcelain – the same stuff veneers are made from.
C now has no problems eating apples or steak and hardly knows she is wearing them.
before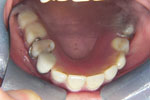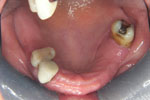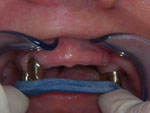 after